OSHA-Compliant Bulk Loading Safety and Access Solutions
SafeRack delivers elevated loading rack and safety cage solutions to companies that place a premium on worker safety. We engineer, manufacture, deliver and install platforms to meet any project's unique specifications. Using galvanized steel gangways, platforms, safety cages, and fall-prevention railings and gates, we customize for terminal as well as mobile units to maximize safety and performance. Importantly, we can install and assemble a stand-alone loading system within a matter of hours.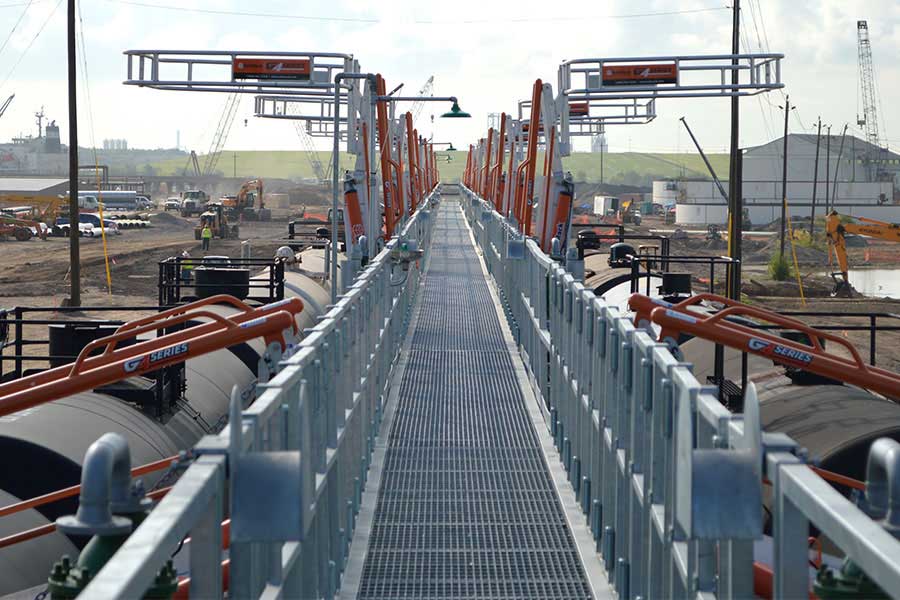 ---

Marine Gangways for Ship-to-Shore Safety
MarinaStep provides marine users with a wide range of safe access solutions between marine barge or ship and shore. Our solutions stem from the core competency and knowledge gleaned from our SafeRack safe access gangways and our mass customization philosophy. MarinaStep offers both standard and custom equipment built from sturdy marine-grade aluminum; from simple inland river access to complex ocean-going applications, we have the solution.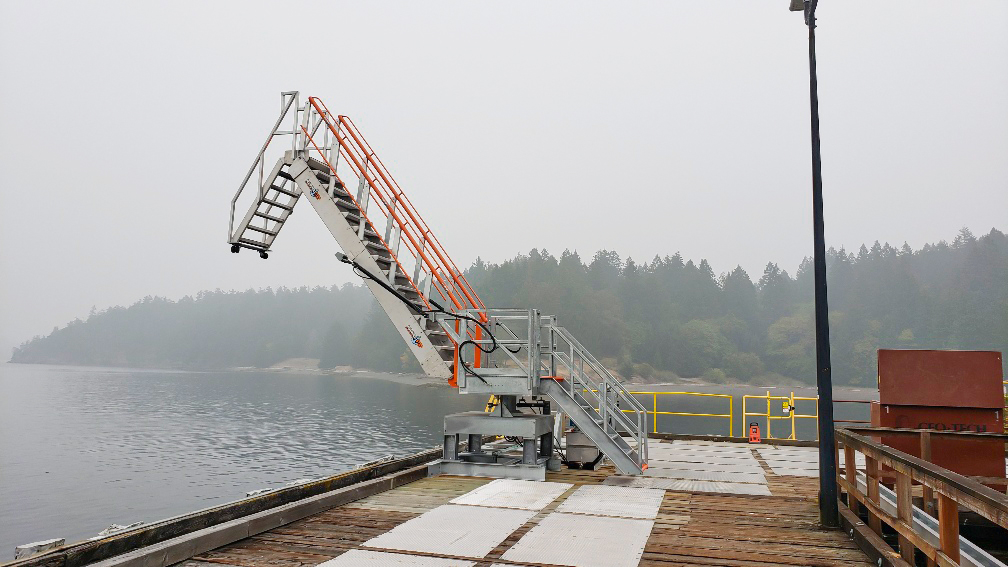 ---

Aviation & Aerospace Stairs and Platforms
AeroStep builds upon our philosophy of mass customization. By combining proven ErectaStep components with custom OSHA-compliant components, aviation sector employees can safely access all parts of an aircraft during manufacture, maintenance, or repair processes. The solutions that we provide can be specific to an air frame if required, as well as adaptable to multiple applications. When wrapping our product around hard-to-access work areas such as the aircraft frame or engine, our solutions ensure safer, easier access. This leads to improved productivity and substantially reduced risk of injury from slips, trips or falls.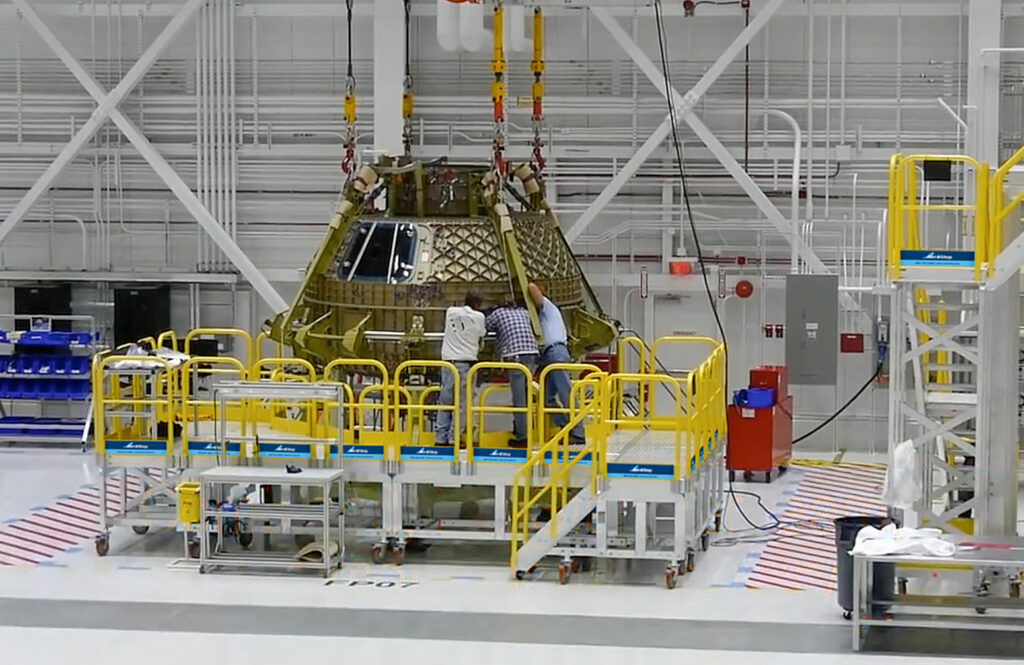 ---

Pre-Engineered Racking to Accelerate Your Project
ErectaRack creates pre-engineered pipe rack systems for customers that rely on heavy-duty piping to transfer a variety of materials including chemicals and other liquids. Our modular pipe rack systems come in T, U, 2-tier, and 3-tier designs and are ready to withstand environmental elements and uphold the weight specifications of any industrial pipe project.
As a result, we disrupt traditional on-site engineering and fabrication processes by taking months out of the pipe rack construction process. Cost-effective and easy to construct without any field welding, our pipe racks enable industries to be up and running with quick solutions that provide precision technology and uncompromising quality that endures.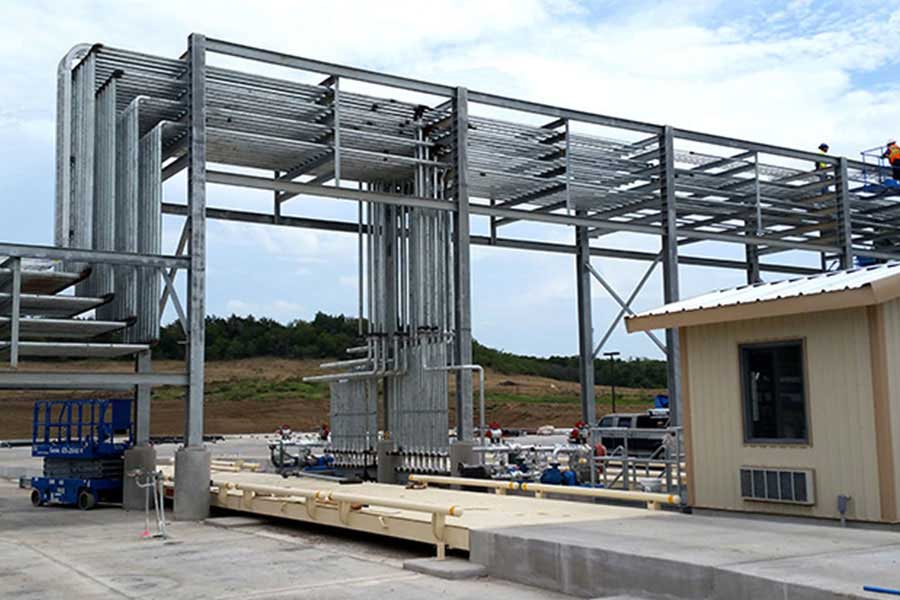 ---
Through SafeRack's Construction Services entity, the Company offers various installation and support service primarily for SafeRack systems
---
SafeRack, MarinaStep, AeroStep, and Erectarack are part of the SixAxis family of modern manufacturing brands, proudly forging a legacy in Andrews, SC. View current career opportunities at SafeRack.
To learn more, visit SafeRack.com
Very responsive. This product is easy to set up, move, and change to a different configuration if needed… stability, interchangeable, light weight.
Chris Jones
MarkWest Liberty Midstream
He was the most responsive salesman I have ever dealt with. Standard model could be modified to meet my application. Costs less than I could have it designed for. Costs less than I could have it built for. Easy installation.
Project Manager
International Paper