ANDREWS, SOUTH CAROLINA June 22, 2022 —Joining an elite group of businesses in the state of South Carolina, SafeRack, a SixAxis company and the global leader in industrial safety equipment and access systems, has been recognized as a model for safety and health excellence as determined by OSHA (Occupational Safety & Health Administration). The federal agency's SHARP (Safety & Health Achievement Recognition Program) designation was awarded in September, 2021 and will be celebrated at the SixAxis campus in Andrews, SC on June 28th of this year. SC OSHA Manager for Outreach and Education Sharon Dumit will be in attendance. 
SixAxis has been providing access and safety systems to the truck, rail, ship, aviation, and aerospace industries using state-of-the-art technology since 2003. Their award-winning patented products are marketed under brands including SafeRack, ErectaStep, MarinaStep, AeroStep, YellowGate, RollaStep, and Upside Innovations.
SafeRack's Environmental Health & Safety Manager Ryan McLaughlin is particularly proud of the emphasis the company places on walking their talk. "In addition to supplying top quality safety products to our customers, we operate a world-class safety program using these same products in our own facility," says McLaughlin. "Our priority on safety, quality, productivity, and delivery is evident as soon as you walk onto our shop floor. Our people are our most valued asset and we strive to continuously improve all facets of our organization."
The company-wide celebration will include the signing of a renewed Safety Pledge and the ceremonial raising of the SHARP flag. SixAxis is the 8th company to be recognized as a SHARP business by South Carolina OSHA and the only since Sonoco Recycling of Spartanburg received the honor in 2015.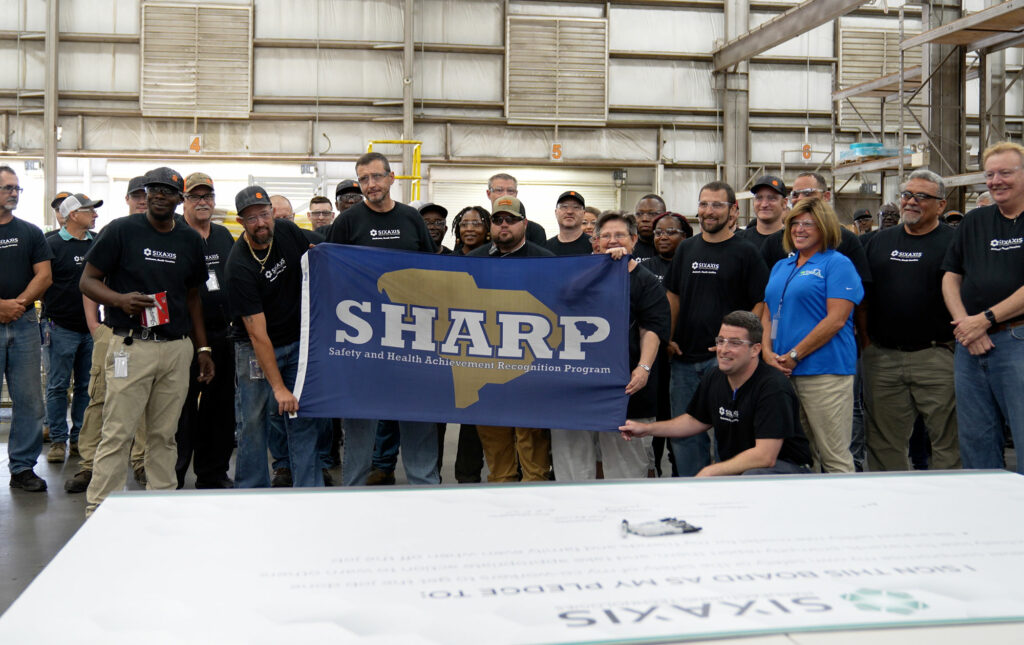 About SixAxis
SixAxis was founded in 2002 to deliver high-quality loading rack and fall protection solutions to companies around the world. Their award-winning products and patents have been developed to increase safety and boost productivity for industry-leading Fortune 500 companies such as Boeing, Dow, and Coca-Cola. For information about how SixAxis is changing the world of manufacturing, visit sixaxisllc.com.