FOR IMMEDIATE RELEASE: June 19, 2018
CONTACT INFORMATION:
Stephen Todd – Director, Business Development – AeroStep
803-847-2351  / stodd@saferack.com 866-732-1382
SAFERACK INTRODUCES AEROSTEP, A MOBILE STAIR AND PLATFORM SYSTEM FOR AVIATION AND AEROSPACE ASSEMBLY AND MAINTENANCE
Andrews, South Carolina — SafeRack, the leading manufacturer of truck and railcar loading platforms and safety equipment, is excited to announce AeroStep, a specialized line of rolling stairs and access platforms for aerospace and aviation industries. AeroStep's mobile stairs have the stability of a fixed platform, but are highly mobile and can be precisely positioned against even the most delicate vehicles or equipment. AeroStep's units can be customized to the unique requirements that are common to aerospace vehicles, giving workers safe access with strict tolerances to such things as intricate space capsules to large, multi-million dollar commercial airliners during assembly or ground support maintenance.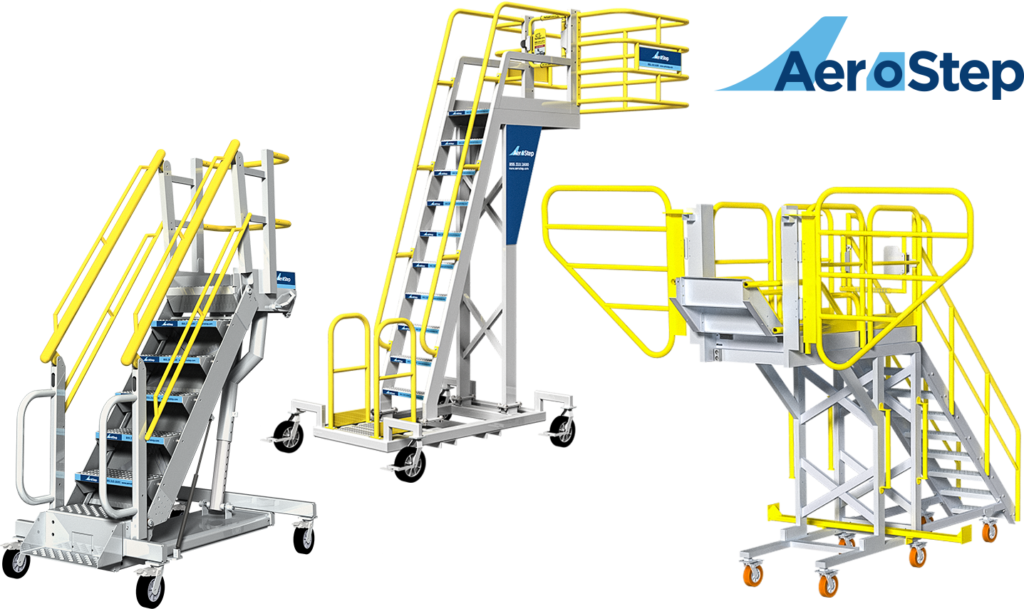 Rob Honeycutt, CEO, says, "Building on our early successes, we will now have a focused group who specializes in AeroSpace solutions, benefitting our customers directly, with a streamlined design process and faster response times.
AeroStep has three primary mobile units that are versatile and have features such as a large work platform, cantilevered and adjustable stairs, sturdy aluminum construction and powder coated surfaces that can be configured for nearly any application. Currently in use at Boeing, GulfStream, Bombardier, Lockheed Martin and General Dynamics, AeroStep equipment is recognized for it's best-in-industry quality and safety, filling a void in the aerospace market with high concept access designs that leverage patented technologies to create the most versatile, efficient and OSHA compliant equipment in aircraft and space vehicle assembly and maintenance.
AeroStep's rolling stair and work platform line of products can be seen at: http://saferack.com/aerostep
About SafeRack
SafeRack is a SixAxis LLC company based in Andrews, SC. Founded in 2003, the company manufactures industrial safety products and provides design and construction services that improve worker safety and productivity in truck, railcar and other industrial loading applications. SafeRack gangways and loading platforms are engineered and configured to comply with safety regulations, delivering a fall protection system that's easy to operate and requires little maintenance. Many of the world's leading rail and truck carriers of crude oil, aggregates, liquid natural gas and other bulk products trust SafeRack for their unparalleled service, speed of delivery and quality product.
For more product information, download the SafeRack Extended Product catalog. To learn more about SafeRack loading technologies, visit www.SafeRack.com or call 866-761-7225.
Assets
Logo:
https://www.saferack.com/wp-content/uploads/2016/12/AeroStep-Logo.png
Images:
https://www.saferack.com/wp-content/uploads/2016/12/AeroStep-product-line.png
https://www.saferack.com/wp-content/uploads/2016/12/Aerostep-G-Series-Tarmac.jpg