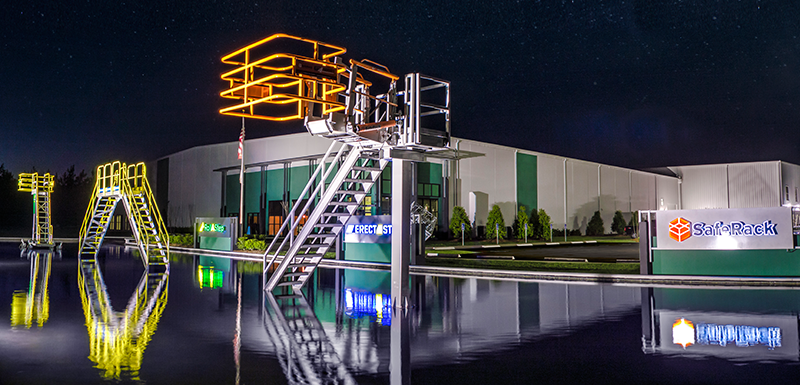 Originally published on Grainnet.com
SafeRack, the world's fastest-growing provider of stronger, safer and easier-to-handle truck loading-rack and fall-protection equipment, announced Aug. 18 that it has earned inclusion in the second annual Inc. 5000, Inc. magazine's exclusive listing of the 5,000 fastest-growing private companies in the United States.
SafeRack, which was founded in 2003, is listed at No. 665.
Since 2005, when it had revenues of $4.8 million, the company has seen its revenues grow to $25.1 million in 2008, an increase of 417.5%.
SafeRack is also ranked 19th among the top 100 companies that fall in the Manufacturing category.
"It is quite an honor to be listed among the Inc. 5000, and one that we accept humbly," said Rob Honeycutt, co-founder and president of SafeRack, LLC. "This is a tribute to all of our employees, as well as our customers who have helped make our products the top choice in loading-rack and fall-protection equipment. Now, we look forward to the challenge of improving our position before next year's Inc. 5000 is announced."
SafeRack's rapid growth stems from its unmatched service and customer responsiveness, and cutting-edge equipment.
The company launched its latest G4 Gangway in 2008 and the response from customers has been overwhelming.
The G4 gangways are constructed using metal-stamping technology and a tool-and-die process to cut out pieces of aluminum, which are then bent into the required shape, eliminating the need for as many welds and creating a stronger, more durable gangway.
Other features of the G4 equipment include spring-loaded gangway and platform operation, slip-resistant tread on the stairs, powder-coated handrails and mid-rails, heavy-duty bumpers and four-rail design for maximum fall protection.
All of this combines to provide the safest gangway for loading and unloading operators in the numerous markets served by SafeRack.
The Inc. 5000 ranking is based on the revenue growth percentage since January 1, 2005.
To be eligible, a business must be generating operating revenue prior to 2005; have revenue of at least $200,000 in 2005, and revenue of at least $2 million in 2008.
Additionally, they must be U.S.-based, privately held, for-profit and independent, not subsidiaries or a division of other companies.
Despite the ongoing recession, aggregate revenue among the companies on the Inc. 5000 actually increased to $214 billion in 2008, up $29 billion, or 16%, from the previous year, with a median three-year growth rate of 126%.
Overall, the Inc. 5000 have been responsible for creating more than one million jobs since their founding, making the companies on the list the best example of the impact that private, fast-growing companies can have on the economy.
For more info, visit www.saferack.com