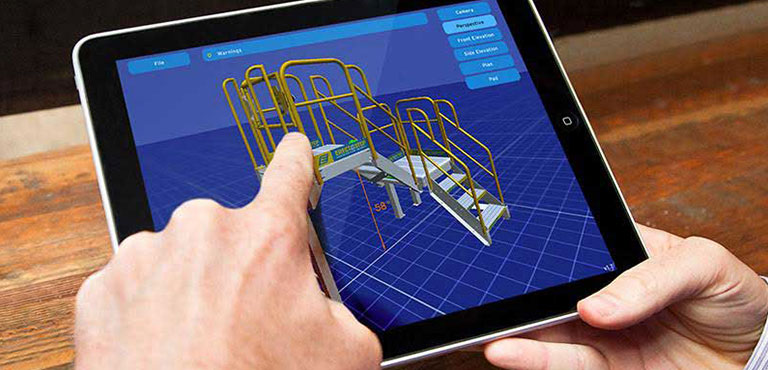 With a renewed emphasis on telling the SixAxis story across a variety of audiences, this fall has been a busy one for SixAxis with a magazine article, attendance at a major trade show and a webcast to the employees of a worldwide corporation among the highlights of a busy season.
SixAxis was featured in United Airlines' October issue of United Hemispheres magazine. In the article, Rob Honeycutt, chief executive officer of SixAxis, discussed mass customization; delivering an outstanding customer experience; and how software developed by his company, Atlatl, makes this all possible.
Honeycutt explains how this software, which is installed on an iPad, empowers the sales person by giving them the potential to customize and amend a customer's product in person. The automated drawings also help eliminate non-value-added parts of the entire manufacturing process – meaning more efficient sales people and, ultimately, leading to increased revenue for users.
This software – named "The Configurator" – features a 3-D game-like interface that allows users to build custom products with full-motion graphics in a virtual environment. The mobile platform allows sales teams to quote immediately while making adjustments in real time by reconfiguring design-to-order products, revising quotes and confirming compliance.
"It's not about reducing product steps, it's about eliminating them entirely," explains Honeycutt. "Typically, sales people receive quotes from the engineers to pass along to clients. And there are usually two or three revision cycles in that – it's a very archaic method for most companies. The Configurator streamlines this process."
SixAxis took the software on the road to FABTECH, which is the largest metal forming, fabricating and finishing event in North America. This year's event was held at the Las Vegas Convention Center in November.
Atlatl and another SixAxis company, ErectaStep, shared a booth. SixAxis used the opportunity to expand their distributor network and introduce it to more than 27,000 attendees.
"We want to share this software with others. It can be applied to any engineered-to-order product, including everything from fences to swing sets," says Honeycutt. "ErectaStep was born from this customizable technology. It has only five parts, but these parts can be bolted together to make any size platform a customer wants. Thus, it made sense to showcase these products at a show like FABTECH."
Atlatl and ErectaStep weren't the only SixAxis brands on the road in November.
On November, Jeff Reichert, president of SafeRack, and Julian Wood, director of operations for SafeRack, presented via webcast to the employees of Ryerson, a company that processes and distributes metals, from Ryerson's worldwide headquarters in Chicago.
Reichert and Wood used the presentation to introduce Ryerson employees to SafeRack and its products and market relationships. Reichert and Wood also shared "The SafeRack Way." This includes adding tangible worth (value), creating better solutions (innovation), and having speed with direction (velocity).
"Ryerson is a valued customer. It was a great opportunity to share the SafeRack story and how we do things with their employees," said Reichert. "We believe this will only enhance our relationship with them."