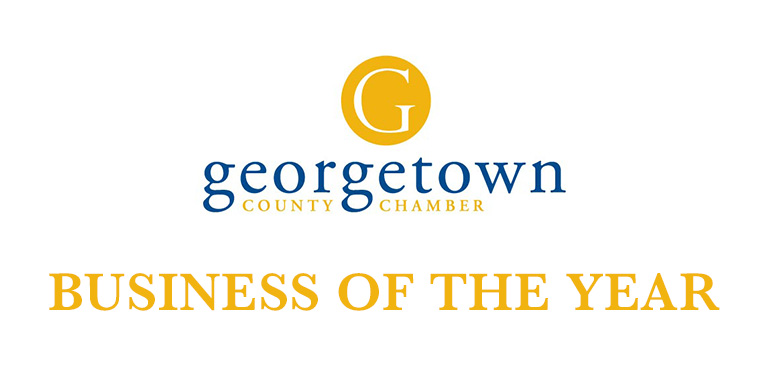 As seen on Southstrandnews.com
The Georgetown County Chamber of Commerce has announced seven award winners to be honored during the 99th Annual Meeting on Thursday, June 9.
The award winners are:
Lifetime of Leadership — Bob Jewell, outgoing president/CEO of Brookgreen Gardens
Young Professional of the Year — Brooke Cox, senior director of Tidelands Health Group
Tourism Leadership Award — Hobcaw Barony
Nonprofit of the Year — A Father's Place
Volunteers of the Year – Sheila Cook and Joan Fields
"We are proud to recognize outstanding individuals and businesses who are leading the way in creating and enhancing an environment of innovation and growth in Georgetown County in 2016," Chamber President/CEO Beth Stedman said.
She said Jewell was chosen for the prestigious Lifetime of Leadership award because he has made a significant positive influence on Georgetown County. Jewell has served Brookgreen Gardens for 12 years and is retiring this year.
"How fortunate are we," Stedman said, "that Bob Jewell's initial short-term volunteer stint at Brookgreen Gardens morphed into 12 years of visionary leadership?"
Brookgreen Gardens, a National Historic Landmark, is located between Murrells Inlet and Pawleys Island. During his 12 years as president, Jewell said Brookgreen has moved its mission forward in every component: sculpture, horticulture, the zoo and forest management.
Jewell is a former member of the Georgetown County school board and serves on several other state and local boards. He and his wife, Toni, live in Murrells Inlet.
Stedman said Cox was named Young Professional of the Year because she has demonstrated commitment to Georgetown County through civic and business involvement. She co-founded the Georgetown County Young Professionals and serves as the organization's chair.
"Brooke has been a shining star among our Georgetown County Young Professionals," Stedman said. "Brooke's leadership, professional accomplishments and service to the community are exemplary."
Cox, an Andrews native, joined Tidelands Health in 2009 as an administrative intern. In 2010, she became director of Tidelands Health Group, the physician practices owned by Tidelands Health, according to the group's website.
Under her leadership, Tidelands Health Group has expanded from one practice and seven employee partners to 25 practice locations, 58 providers and 178 employee partners. In 2015, Cox was named Practice Administrator Manager of the Year by a statewide organization of her peers for outstanding leadership abilities.
Hobcaw Barony was chosen for the Tourism Leadership Award because it is a stage for sustainable tourism in Georgetown County, Stedman said.
"Hobcaw Barony presents a unique experience for guests in our area to immerse themselves in the natural environment and history that help make Georgetown County such a special place," she said.
Owned by the Belle W. Baruch Foundation, Hobcaw Barony is a 16,000-acre research reserve located on the coast near Georgetown. Hobcaw Barony encompasses a diversity of every common ecosystem found on the South Carolina coast, making it an unparalleled site for research in the environmental sciences. In addition, it contains more than 70 cultural sites on the plantation including cemeteries, slave cabins, and the Baruch's homes.
Stedman said SafeRack LLC, a manufacturing company near Andrews, was named Business of the Year because it has demonstrated stability and growth, innovation, ability to overcome challenges and a commitment to Georgetown County.
"At a time when many companies have moved manufacturing and customer service facilities overseas, SafeRack has announced a $20 million expansion that will bring 100 new jobs to the area," Stedman said. "The company's commitment to the people of Georgetown County is commendable."
The company specializes in truck loading racks, railcar loading platforms, gangways, loading arms, swivel joints, fall protection equipment and crossover stairs.
Stedman said A Father's Place was chosen as the Nonprofit of the Year because it provides superior service and contributions to the citizens of Georgetown County. Located in Georgetown, it helps rebuild men and their connections with their children.
"We are fortunate to have A Father's Place to work with dads to help them overcome obstacles and become a positive influence in the lives of their children," Stedman said.
Stedman said Sheila Cook and Joan Fields were named Volunteers of the Year because they have assisted with Chamber events and activities, advancing the mission of the Chamber.
"Sheila and Joan have been dedicated to serving Chamber members and assisting staff for a number of years," Stedman said.
"They create a positive experience for Chamber members and guests, and both of them are instrumental in our Business After Hours events."