How one manufacturer streamlined quoting and grew 500 percent in six years.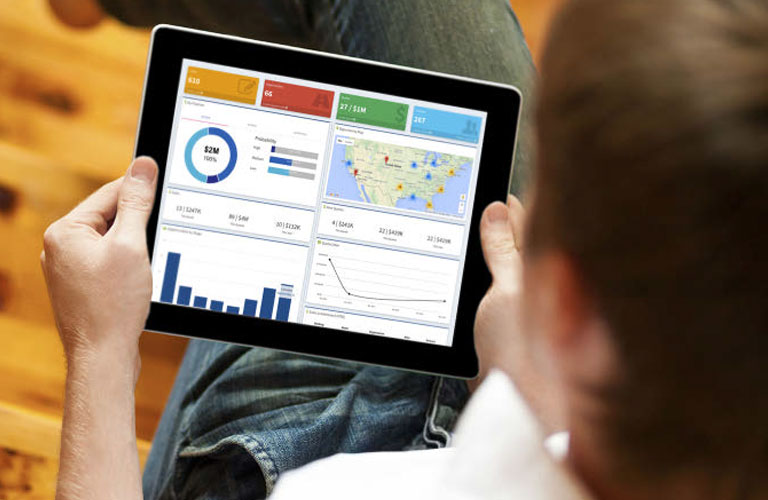 As seen in The Fabricator Magazine
By Tim Heston

Metal fabricators have a history of growing through word-of-mouth. Many companies go for years, sometimes generations, without hiring a single salesperson. It's just the nature of this manufacturing sector dominated by small, multigenerational family shops. Few say their company is "sales-driven."
Rob Honeycutt is one of those few (see Figure 1). He's CEO of SixAxis LLC, a manufacturer of a range of industrial portable steps, loading platforms, and related products, all customizable to the nth degree. A decade ago the company couldn't afford to pave the factory floor. By next year it will have almost 225,000 square feet of space, with a customer showroom leading to a manufacturing space with four tube cutting lasers, a punch press, a press brake, drill lines, and band saws, all feeding a multitude of welding cells, including several robotic cells, and an automated powder coating line.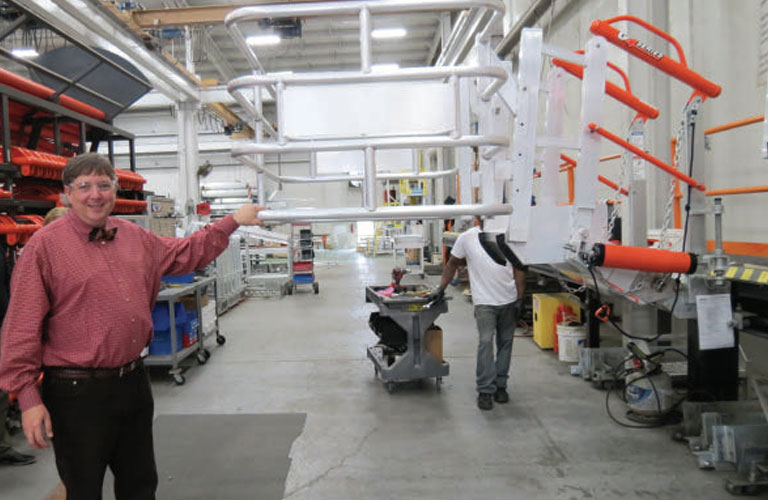 Figure 1 – Rob Honeycutt stands by a SafeRack loading gangway being put together on the assembly line. The structure, which can hold thousands of pounds, can be adjusted up and down with one hand.
How did the company grow like this in such a short time? According to Honeycutt, it was because he focused on giving his sales team the tools they needed to solve customer problems. He said the company wouldn't be where it is today without in-house fabrication. But it also wouldn't be where it is without something a bit more unusual for a 380-employee manufacturer: homegrown software. It shortens the sales, estimating, quoting, and order entry time— not by just a little, but from weeks to minutes.

About Solving Problems
Walk into the sleek front office at the company's Andrews, S.C., manufacturing plant, go upstairs, and you'll see a small room with a handful of engineers. Adjacent to them is a large open area: the sales department. Next to this is a new theater, which will be used for in-house training as well as customer training on the proper use of the company's products. The sales department has a glass wall through which you can see a portion of the 95,000-sq.-ft. plant, with a TRUMPF punch press and press brake and two BLM tube lasers feeding parts to joining, assembly, coating, and packaging departments (see Figures 2 and 3).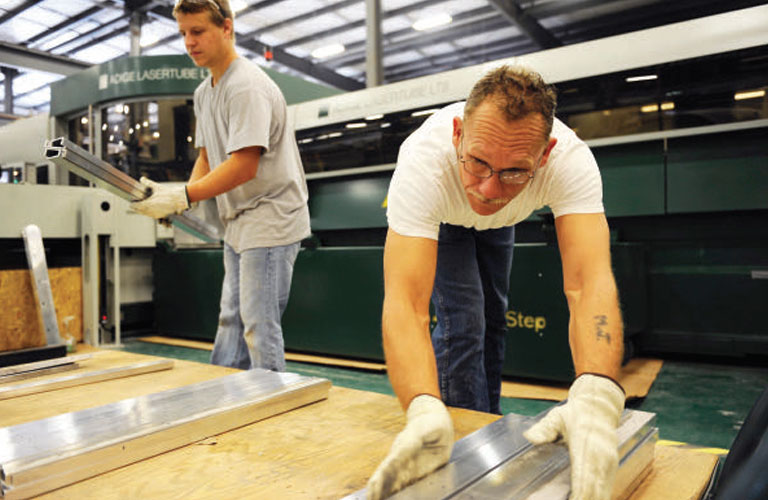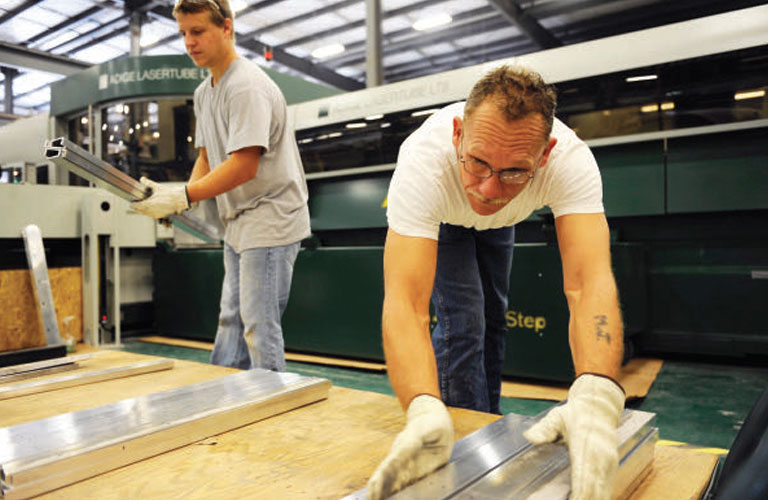 Figure 2 – Two SixAxis employees handle cut rectangular tube emerging from one of the company's two tube lasers. 
In 2006 Honeycutt and his business partner Frank Harmon looked out at a near-empty spec building with a dirt floor, a small horizontal saw, and a magnetic drill. They moved everything around with a single forklift. Nine years and two tube lasers later, the company has plans to install two more within the next year, along with a lot of other new equipment. It's all part of a $20 million expansion that will add another 120,000 sq. ft. to the factory.
Just four years before, the two founded the company after quitting their jobs at another company that sold similar products.
Why did they quit? Their employer at the time, a family business, was under a new generation of owners who had a sales philosophy that Honeycutt and Harmon didn't agree with. Before, they had taken the consultative sales approach: Visit customers, ask questions, talk about problems, and find ways to solve them. Now they were told to sit, make calls, be direct and brief, ask if they needed their product, and if not, move on to the next number on the call sheet.
While the approach may work for some, it didn't work for Honeycutt and Harmon. So they struck out on their own and started a company called SafeRack, named after their first brand of industrial loading platforms.
"All Fred and I wanted to do is to be relevant in the industry," Honeycutt said. "We weren't enterprising and trying to create the next big thing at the time. The intention was just survival. Basically, we put our money together, mailed out a catalog, and prayed for the best."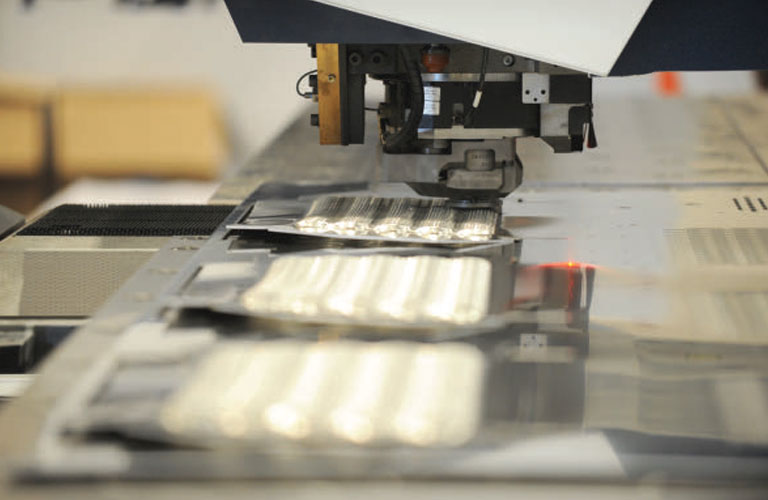 Figure 3 – On the shop flop, form tools on the punch press create treads for a safety platform. 
The first year was smooth-sailing, at least from an operational perspective. "You don't really have problems until you sell something," Honeycutt said. "You have money problems, of course, but you don't have any product problems until you actually get a sale and deliver."
The consultative sales approach got the company off the ground, though, unfortunately, the area around Andrews didn't have a large number of reliable, high-quality fabricators. So they brought manufacturing in-house and moved into a spec building in rural Georgetown County. The building had been empty since 2002.
"[The county] helped us finance it for a few years until we got on our feet," Honeycutt recalled. "In short order, we were in the plant, we had electricity, and we were able to pave a little concrete."
The company started shipping more products, and as the money started to come in, Honeycutt immediately started investing in sales. "We had more than a half-dozen salespeople who joined us. In fact, we had more sales than we had anything else, and that saved us, because we focused on getting orders. Nothing happens until you get an order."
He added that the team "felt quite liberated, because we had our own factory. We weren't depending on other companies. There were a lot of unknowns, but at least we were in control of our own destiny."
The sales team landed more orders, and the company grew extraordinarily quickly. "We didn't know what we didn't know, so we ran blindly toward it," Honeycutt said. "We were all for technology, and all for doing things that customers cared about, which was fast delivery of products that solved their problems … And the injection of sales into the manufacturing organization turned out to be one of the most powerful components of what we leveraged, though we didn't know it at the time."
As orders kept coming, the owners plowed all the money back into the business—and even paved the floor. Then came December 2007. "That was our Black Monday," Honeycutt recalled. "We had the financial downturn, and then ethanol went down. All of our business was tied up in biofuels."
Processing plants needed large platforms, a large capital expenditure that, thanks to the financial crisis, wasn't being made. So the team regrouped. They needed to develop more products and diversify, to serve not only more industry sectors but also sell less expensive products that weren't necessarily classified as a capital expense. To build a large platform in a processing plant or railyard requires a capital expenditure; a $7,000 portable stairway probably doesn't.
From this effort eventually came a list of other brands: ErectaStep portable stairways, RollaStep rolling stairways, AeroStep stairways for aircraft, and more. To sell these different brands, the parent organization was renamed SixAxis, after the company's first six-axis tube laser, which happened to make many of these new product designs possible.
Today SixAxis' shop floor has minimal work-inprocess (WIP), even in its state of transition; once the expansion is complete next year, the plant will double in size. The only place with any extensive WIP in the plant are parts coming back from plating. The plating lead time requires a small inventory buffer.
Walking on the shop floor, Honeycutt shows off a laser tube cut design he patented to prevent competitors from using the designs on their products. With V notches cut into it, the tube can be easily bent by an assembler, eliminating the need to create fixtures and weld components individually.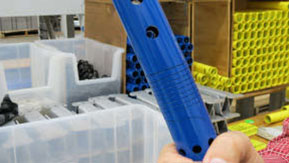 Figure 4 – Spiral cuts made by the tube laser turn a ridged tube into a flexible one.
He touted another laser tube-cut design that unitizes several parts into one. The spiral cuts turn a rigid tube into a flexible tube: more welding eliminated, more costs taken out of the product (see Figure 4).
The Software Story
SixAxis has a bumpy history with software companies. It took two years, from 2007 to 2009, to get its ERP platform working, and once it did, they realized how incredibly complicated its user interface really was. "It looked like you needed a four-year degree to push a button on it," Honeycutt said.
He knew, though, that employees really didn't need access to much: They needed to clock orders in and out, record quality checks, and find the next job on the schedule. Although the ERP user interface made it look like rocket science, it really wasn't.
So he took a leap and hired a few software engineers to write code and create a simple interface layered on top of the ERP platform. The strategy worked. "That was the beginning of our software effort," Honeycutt recalled. "We weren't scared of it now."
He then moved toward customer relationship management (CRM) software. Being so sales-focused, Honeycutt felt it just made sense—and he also felt that the move would be (compared to the ERP implementation) relatively painless. After all, he had years of sales experience, and CRM should have been well within his sandbox. Wrong again. SixAxis went through five different CRM implementations, and all of them fell flat.
Being a manufacturer, Honeycutt knew his sales team needed more than just a glorified Rolodex. He and his team thought about what people in industrial sales actually do. Before leaving on a sales trip to visit a customer or strong prospect, the salesperson may look to see if any other prospects are in the area. Wouldn't it be great if he could look at a CRM app to see a map showing him not only where his customer was, but also other prospects in the area? Wouldn't it also be great if the software could automatically generate an e-mail telling his contacts he'll be in the area and request a meeting?
This would all make the salesperson's job easier— all good things. Still, the customer experience wouldn't change. Moreover, project-based sales have always had one major hangup: returning accurate, comprehensive quotes that give a clear picture of what exactly the customer is buying. The customer makes certain demands, the salesperson records the details, then says, "Let me check with my engineers and get back with you." Days pass, engineers work with estimators to fill in the gaps, and the salesperson finally gets back to the customer with a quote.
What if a salesperson could somehow communicate a complicated project, verify the details, and then produce a quote immediately?
SixAxis' software engineers got to work, and the result ultimately changed how the company's sales force works (see Figure 5 and 6). Now when salespeople visit customers, they bring their iPads. What type of platform do they need? The salesperson shows them a 3-D model on the screen. If the product will be installed somewhere or integrated into another structure or vehicle—like a rolling stairway or platform to an airplane or railcar—a 3-D model of the vehicle and surrounding environment appears on the screen as well.
Does the customer need this platform to be a little longer? He touches the screen, and the platform extends so many inches. Need it an exact length? He can type in the dimension. And all revisions are done with certain engineering rules baked into the software.
When the customer is happy with the design, the software produces flat print views and a quote automatically, then updates the customer file on the CRM platform.
Engineering reviews and approvals are still required on complicated projects. But for simple projects, when a salesperson submits the order, it actually bypasses engineering and goes directly to the ERP, which releases bills of material.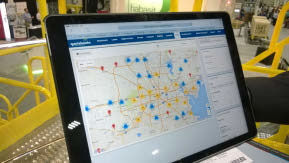 Figure 5 – When planning a visit to a metro area, a salesperson can log on to his CRM and quoting software, see a map of customers and prospects in the area, and automatically send out meeting requests. SixAxis first developed the software, called QuoteBooks, for its own sales team, and now sells it to others through its Atlatl subsidiary.

No Layoffs
Despite a severe drop in sales, SixAxis didn't lay off anyone during the Great Recession. "We just didn't make any money for a few years," Honeycutt said. "But that really became a building block for our company culture."
When the company implemented its software that effectively automated a good deal of engineering work, it didn't lay off its engineers either. It instead transferred them to a newly created R&D department.
Those engineers were and still are highly skilled and creative individuals. And according to Honeycutt, the company now is better utilizing those engineering skills. Before, engineers spent most of their days answering questions, tweaking designs, and revising 3-D CAD files. They weren't engineering something from the ground up; they were just altering existing designs. That work can be tedious and mundane.
Now engineers focus not on the simple jobs, he said, but instead on complicated projects as well as entirely new products. Put another way, engineers are not focused on where the company is now, tweaking designs to help sales provide quotes; they're focused on where the company is headed.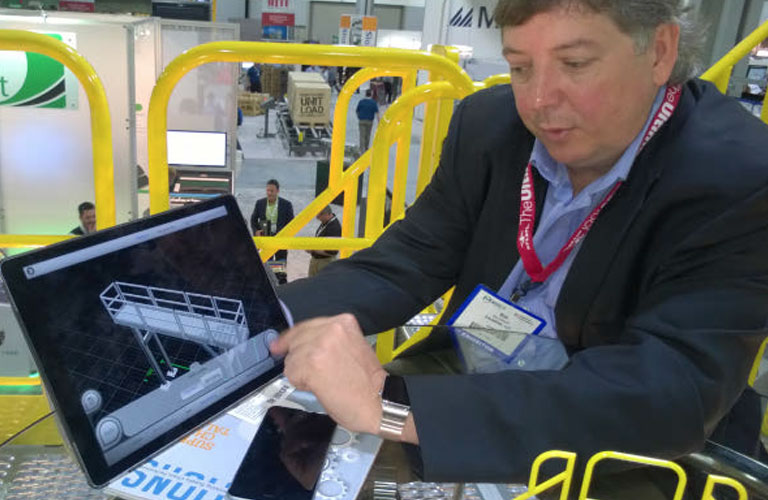 Figure 6 – Rob Honeycutt, CEO of SixAxis, demonstrates Visual 3D Pro, an interactive product configurator that integrates with the company's quoting and CRM software.

Throwing the Spear
Today SixAxis sells its homegrown product configuration, quoting, and CRM software through Atlatl Software, a subsidiary named after an Aztec invention that was a kind of fulcrum to propel spears at high speed.
"Atlatls helped the Aztecs win the wars," Honeycutt said. He hopes software will help salespeople do the same.
The company sells its quoting and CRM tool through the QuoteBooks brand and its product configurator as Visual3DPro. The 3-D configurator can be adapted for a range of businesses, from pool installers to warehouse designers to various productline manufacturers.
Still, Honeycutt added that the software isn't really suited for the make-to-print job shops or contract shops that work on various projects. It's instead bestsuited for manufacturers making customizable products that have common or modular components.
"The millennials really care about the sales, service, and buying experience."
— Rob Honeycutt, SixAxis

The Buying Experience
Honeycutt believes in sales. When the company head count expanded by 76 in 2015, he touted the fact that most of those new hires were in sales— people who were in direct contact with customers. Today the organization employs 380 people, and 60 of them are in sales.
Honeycutt conceded that this approach really wouldn't work, at least in the long term, if his salespeople didn't have support, both on the software side to streamline the front-office engineering and order processing and the in-house manufacturing technology.
He also said that it also wouldn't work as well as it does without the "buying experience." The immediate nature of seeing the product on-screen, and the immediate quote, resembles experiences consumers have had online for years.
Honeycutt added this will only become more important in the coming years. "The millennials really care about the sales, service, and buying experience."
So many manufacturers are focusing on the order-to-ship cycle, shortening the time between when a customer places an order and when it ships. That's great, but what about the time before the order is placed, the time spent going back and forth with the customer, ensuring all details are accurate? The time wasted when, after quotes are submitted, orders fall through?
Here, Honeycutt said, is where the buying experience plays a vital role.
"Who Does Your Marketing?"
SixAxis salespeople kept hearing this time and again as they handed over their slick brochures, catalogs, other print literature, or led customers to the manufacturer's various websites devoted to individual brands. They told them that, in fact, they produced this material themselves.
"We were making waves," said Jason Wilder, who several years ago was SixAxis' head of marketing. "They like our products. They like our software. So let's spin off our marketing department and offer it as another service."
Whence came Red7, a marketing firm owned by a 380-employee manufacturer—not a small mom-and-pop, but no GE either. After the spinoff a year and a half ago, Red7 (which began with seven employees, hence the name) began hiring specialists in technical writing and social media. The marketing firm now employs 20 people led by Wilder, now Red7's president and chief creative officer.
Today the majority of Red7's work is for its parent company. But Wilder and his team hope to expand its client base and, ultimately, provide another steady stream of revenue for SixAxis.
Senior Editor Tim Heston can be reached at timh@thefabricator.com.