By Andrel S. Langely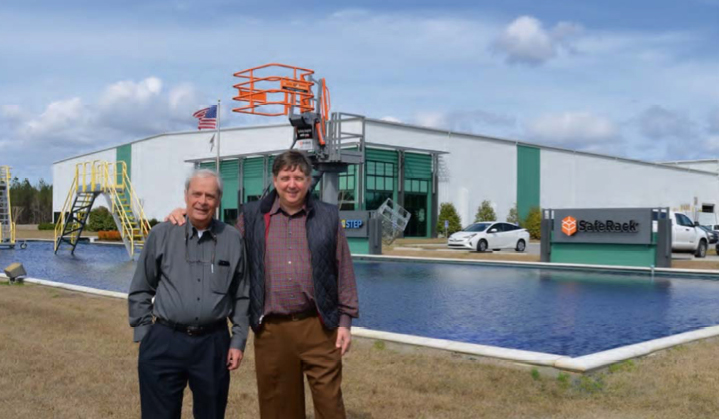 SafeRack co-founders Fred Harmon and Rob Honeycutt stand in front of the global company's 225,000-square-foot facility in Andrews, S.C.
Not seeing any virtue in simply doing things the way they've always been done has led to grand things for SafeRack co-founders Rob Honeycutt and Fred Harmon.
SafeRack started in 2003 when Honeycutt and Harmon, then salesmen in the loading rack industry, decided it was time to do things differently than they had been done for the past 50 years. They decided to start their own company making safety equipment for loading racks, but they had no idea that "thinking outside the box" and listening to their customers would ultimately lead to such success.
The specialized type of loading racks SafeRack first produced were mainly used for loading and offloading railcars and semi-trailer trucks. The idea of expanding into other areas came from drawing an imaginary circle 100 feet around their base product in use. The company now offers five brands that also include ErectaStep, PerfectaStep, RollaStep, AeroStep and YellowGate.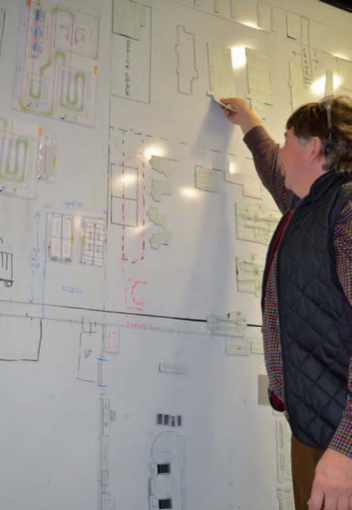 SafeRack co-founder Rob Honeycutt demonstrates how the new $21-million expansion was laid out with magnets cut into the shapes of proudction machines that can be moved around a magnetic model of the floorplan.
SafeRack products include loading platform systems, gangway ramps, metalwork stairs, rolling platforms, loading arms, safety gates, safety cages, shelters and canopies, and so much more. These items can be found in the chemical, crude oil, food and beverage, mining, natural gas, pulp and paper, asphalt, automotive and many other industries.
Sales and detailed engineering are handled in the company's customer service office in Sumter, S.C. Rather than continuing to rely on third-party production, the men purchased a 40,000-square-foot spec building with dirt floors in Andrews, S.C. At the time, they had a few doubts about needing so much space, but in 2013, they added 55,000 more square feet to the facility.
"We leveraged technology to accomplish modernization of the same antiquated product designs and processes," Honeycutt explained.
In 2010 and 2011, they developed an app that allows salesmen to configure specialized setups, onsite, in minutes. In the past, measurements would have to be taken and everything configured and reconfigured until they were right, which sometimes took months. The app is like a video game that turns into reality.
"Established engineering rules make it possible to use algorithms to configure all the components," Honeycutt said, explaining that many companies in this fast-changing world find practicality in this approach, because they can use all the same part numbers. "They just unbolt it and configure it in a different way.
"The configurations are endless. We give our customers what they need, when they need it, at a great price," Honeycutt added.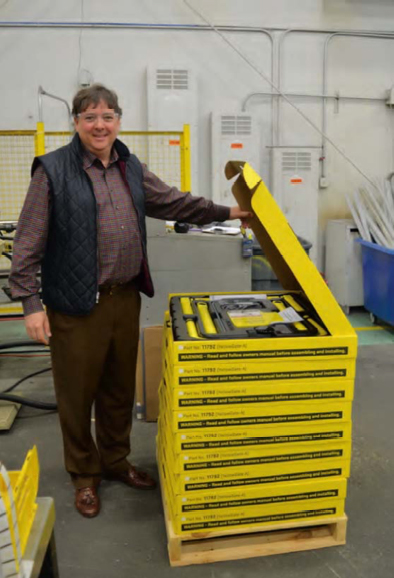 SafeRack co-founder Rob Honeycutt poses for a photo beside boxes of YellowGate, one of the product lines SafeRack produces.
SafeRack is very different from any competitor because of the way they manufacture their products, Honeycutt said. With 75 percent of all SafeRack parts standard and only 25 percent of the parts having to be changed, the manufacturing process provides economy of scale because there are fewer steps in the project's timeline.
"As we grow, we redesign our plant for the changing environment," Honeycutt said, standing in the center of the new, additional 130,000-square-feet, $21-million expansion.
Just like salesmen show customers options by stretching, turning or changing product design to suit individual needs on the configuration app, the SafeRack team has worked to design this expansion to be the most safe, cost-effective and seamless way to product loading rack safety equipment.
Semitrailer trucks enter one side and exit the other side of the now-225,000-square-foot facility for a flow of goods in and out with no backing and lowered risk of accidents. There are no forklifts in use, but large overhead cranes move from front to back and side to side picking up and delivering materials to the part of the plant where they're needed. The layout is highly effective and adaptable. The factory is built for safety, just like the products they product. The expansion is expected to allow the company to quadruple its output.
"All of our parts are made in the USA," Honeycutt said proudly.
He credits SafeRack's success to their experienced salespeople who are well respected in the industry, the way they present their products to customers, as well as the way they build their products.
"We evangelized our message and are now in 39 countries," he added. "We ship all over the world from right here in Andrews."
SafeRack employs about 300 people and also has an international sales office in Broadstairs, England.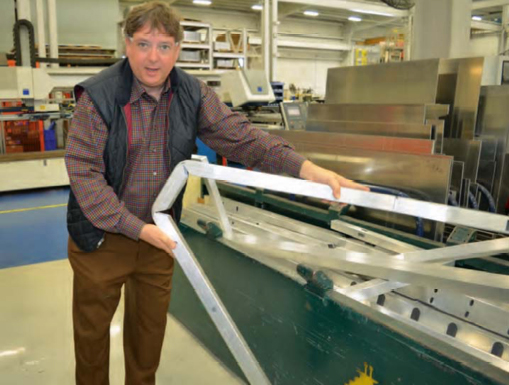 SafeRack co-founder Rob Honeycutt demonstrates how precision cuts enable 75 percent of all SafeRack parts to be standardized, which helps streamline the production process.